Quality CD containing high resolution scans of the Factory Service Manual for the Nikon 28 Ti compact camera. Covers adjustments, disassembly, reassembly, parts and exploded views. To be used with the 35ti service manual. 67 pages in Adobe Acrobat PDF format.

Only $6.99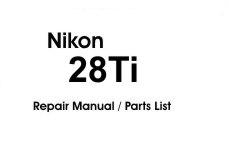 For more information on how these images were
acquired, click here.